Witnesses describe danger as Paulding deputies closed in on gunman | News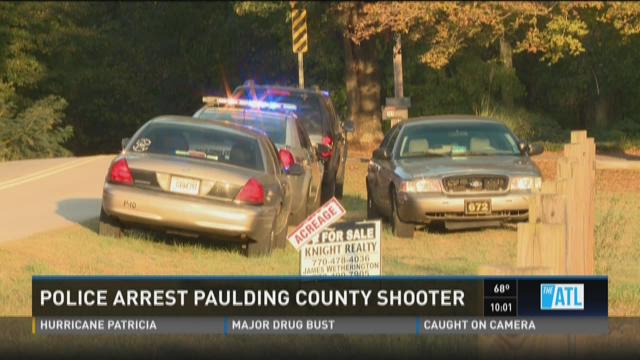 PAULDING COUNTY, Ga. -- Neighbors around Winn Street and Friendship Church Road in Paulding County are breathing a little more easily after the community was previously swarmed with law enforcement officers looking for a gunman, Friday.
Deputies say it started out with an armed robbery attempt at a local farm goods store. But the situation immediately became extremely dangerous when the suspect ran away with a high powered rifle.
Friday night was homecoming at South Paulding High School and the atmosphere was complete with all the excitement and anticipation that comes with it.
But just a few hours earlier, the school was on lock-down, with an active shooter - later identified as John Joseph Baxter, 47 - not far from the campus armed with a rifle.
"The suspect pointed the rifle at the deputies from a distance and then fled on foot," said Sgt. Ashley Henson of the Paulding County Sheriff's Department. "At that point, the deputies heard the suspect firing off rounds. We didn't know if they were in the air or the ground."
Deputies said the gunman appeared to be under the influence of something, running from house to house and car to car on Winn Street, at one point hiding behind a small herd of goats, as if trying to blend in.
"I heard somebody yell to drop the gun," said one witness. "Shortly after that, (deputies) went back to their cars and pulled out their assault rifles and were manning different posts all around the garage area."
Paulding County sniper and SWAT teams fanned out in the area, armed with their own high power rifles in case the suspect decided to dig in and fire at deputies, instead of just into the air.
"We ran inside and he started coming over to our house," said another witness. "We were like getting ready for him. He was trying to steal my car; he got in it and was looking for the keys. He got in it and got out."
By the time deputies closed in, the suspect had dropped his weapon. He is facing a long list of charges.
"Armed robbery, possible aggravated assault on a law enforcement officer, burglary and multiple attempted theft charges," said Sgt. Henson.