Funerals for teens killed in crash slated for same church, same day Two teens dead after crash with Georgia State Patrol vehicle | News
Title (Max 100 Characters)
Funerals for teens killed in crash slated for same church, same day Two teens dead after crash with Georgia State Patrol vehicle
PAULDING COUNTY, Ga. -- They were best friends, and now, their families will hold funeral services for Kylie Lindsay, 17 and Isabella Chinchilla, 16 at the same church on the same day.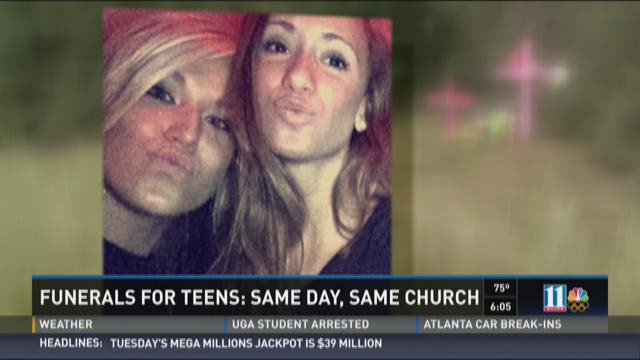 The teens, who attended South Paulding High School, were killed on Saturday night when the vehicle they were in was hit by a Georgia State Patrol car.
Visitation will be held on Wednesday from 4 until 8 at Bellamy Funeral Home at 3551 Jimmy Lee Smith Parkway in Hiram.
On Thursday, Isabella's funeral begins at 10:00a.m. at West Ridge Church, at 522 Hiram Acworth Hwy in Dallas and services for Kylie will be at the same church at 3:00p.m.
Hearts are heavy in the South Paulding High School community as they mourn the deaths of two teenage girls who were killed when the vehicle they were in was hit by a Georgia State Patrol car.
The incident happened around 11:35 p.m. on Saturday, according to a state patrol report. The trooper's vehicle and a 2005 Nissan Sentra occupied by four teens collided on Holly Springs Drive in Carroll County.
According to investigators, the girls were in the backseat of Nissan with two teen boys in the front.  It was traveling south on the Highway 27 and attempting to turn onto Holly Springs Drive, when it was hit by a patrol car driven by Trooper First Class A.J. Scott., traveling northbound. The collision sent both vehicles off the road.
Of the four teen passengers - two male and two female - officials said Isabella Chinchilla, 16, and Kylie Lindsey, 17, died from injuries sustained in the crash. Both girls attended South Paulding High School. 
The other two teens were sent to Grady Hospital for injuries. Trooper Scott was treated for injuries and released from Tanner Medical Center.
The Paulding County School district is providing grief counselors at the school. Pink crosses mark a memorial to both young women on the side of the road where the crash occurred.
"Her smile was contagious," said a friend of Kylie Lindsey, who didn't want to be identified.  "Her love for everybody and everyone she met and her friends were the type of thing that made you want to be a better person, because she was just that way.
The crash is still under investigation by the state patrol's Specialized Collision Reconstruction Team.  Tuesday, they shut down part of Highway 27 for part of their accident reconstruction. 
But, one nearby resident told 11Alive the intersection is dangerous and he avoids it.  The gentleman, who declined to be identified, said a neighbor of his was killed at the same intersection about 15 years ago.
"The speed limit's 55 and they (vehicles) top this rise running 55 and unless you really accelerate to get across the intersection, it's really bad," said the resident.
He also said fog and rain on Saturday night likely contributed to the accident.
11Alive requested crash statistics for the intersection from the Georgia Department of Transportation.  A spokeswoman said they are compiling the information, but it would not be available until Tuesday morning.